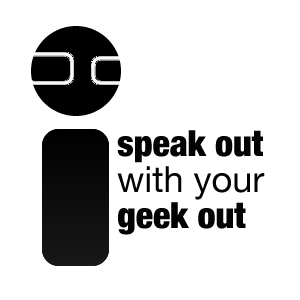 If you are a geek of any degree, you've probably heard the story about the journalist who dated a Magic: the Gathering champion by now. But if not, here's the nutshell version - an internet journalist went on a date with someone she met through a dating site, found out that he was a Magic: The Gathering champion, and felt the sudden need to take a long, hot shower and blog about how gross and icky the whole experience was. Geek rage ensued, and the whole thing turned out to be quite profitable for the judgemental journalist, who was getting paid for each click on her screed (in fact, that may have been the purpose of the whole thing, which is why I will not link to it here).
In a similar vein,
Joe Elliot of Def Leppard
recently referred to his more angry and unappreciative fans as "idiots who sit in their mother's basement eating Doritos and playing Dungeons and Dragons all day," using a popular pasttime to paint the image of unsocialized, unwashed loners holed up in dark basements, typing furiously on keyboards about how disappointed they are that the band doesn't vary their set list between shows.
These aren't the only examples. Every day, I find more in my inbox - usually ESPN editorials accusing unpopular athletes of playing too much D&D. While flipping through TV channels about a month ago, I chanced upon two shows airing simultaneously - a reality program with repo men trying to collect a vehicle from LARPers who refused to break character, and a Disney Channel show in which a tween girl was horrified to discover that the boy she liked played a popular fantasy card game (no big surprise here - the Disney Channel actually has a long history of this sort of thing).
Now realistically, this is minor compared to other, bigger injustices that are going on in the world. We're not some kind of tragic victims here. We'll live through this, certainly. But that doesn't mean that we can't do something to correct it.
My friend Monica Valentinelli has started an event in response to this type of hatred: Speak Out With Your Geek Out, in which geeks of all types make their status known to all on blogs and social networks and anywhere else they want to let their geek flag fly. Monica explains it much better than I could:
Sometime during the week of Monday, September 12th to Friday, September 16th post about what geeky hobby you love. Then, tell us why we should try it, too. Leave your fears (and edition wars) at the door. Forget about your latest rant. Tap into that well of positive energy and share in the excitement of all things geek.

Let us invite those who would stereotype us to sit at our table and share our interests. Let us combat being used as pawns for internet gaffes with the reasons why we're awesome, why we love what we love, and why it's good to be a geek.
The
Flames Rising blog
has more on the event. If you are on Facebook, you can
join the event there
, and Twitter users are encouraged to use the #speakgeek hashtag in their tweets.
(The idea is similiar, but not identical, to another geek-related event that will be coming up soon, one that was concocted on this very site -
Read an RPG Book in Public Week
- and I encourage any and all participants in that event to participate in this one - and vice versa!)
---