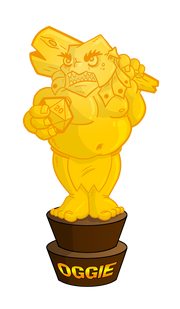 Just in case you've been procrastinating, this is a friendly reminder that there are just two days left to vote for my website, The Escapist, in the Ogre Awards! The Escapist has been nominated in the Website of the Year category for the 2011
Ogre Awards
, a series of accolades given by the Organization of Gamers & Roleplaying Enthusiasts (O.G.R.E.s).
Here's more about the "Oggies" from their website:
The OGRE Awards, most commonly known as The Oggies (after our mascot Oggie the Ogre), are a grouping of awards presented by O.G.R.E.s annually to leaders and members of the tabletop, card, live action, and party gaming industry for their products and services. Unlike other tabletop industry awards like the ENnies or Origin awards, the OGGIEs are not all limited to annual releases. Instead, they reflect the cherished games and people that members of O.G.R.E.s - around 3,000 across three countries - care for. The program began in 2010, and the first actual awards will be up for open voting beginning on September 1st, 2011.
Check out the voting page and, if you are so inclined, please consider voting for your favorite roleplaying advocacy website in the Website of the Year category! The voting page can be found at
ogres.wikia.com/wiki/The_Oggies/2011
and voting closes on October 31st.
---