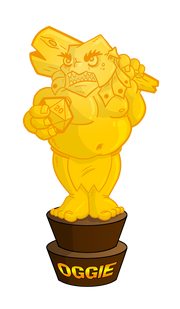 The title says it all - my lil' ol' roleplaying advocacy website won the Golden Ogre in the First Annual Oggie Awards, hosted by the Quilt City O.G.R.E.s (Organization of Gamers and Roleplaying Enthusiasts).
Lots of thanks to everyone who voted, and to the O.G.R.E.s for the nomination! To see the full list of winners, visit
the O.G.R.E. website
.
Here's more about the "Oggies" from their website:
The OGRE Awards, most commonly known as The Oggies (after our mascot Oggie the Ogre), are a grouping of awards presented by O.G.R.E.s annually to leaders and members of the tabletop, card, live action, and party gaming industry for their products and services. Unlike other tabletop industry awards like the ENnies or Origin awards, the OGGIEs are not all limited to annual releases. Instead, they reflect the cherished games and people that members of O.G.R.E.s - around 3,000 across three countries - care for. The program began in 2010, and the first actual awards will be up for open voting beginning on September 1st, 2011.
---