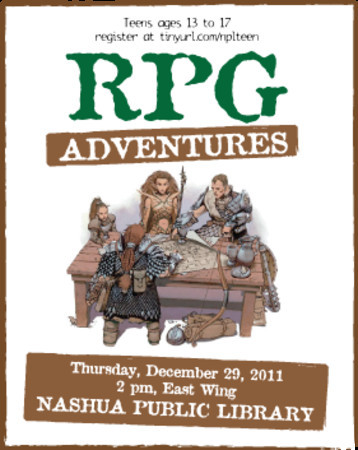 For those who are interested in running roleplaying games at libraries, take a lesson from the
Nashua Public Library
in New Hampshire - their promotional banner and copy (below) are bound to get some kids interested in signing up:
Once you've squeezed all the fun you can out of computer-driven fun this Christmas vacation week, consider kicking it with a bit of imagination at the Nashua Public Library. On Dec. 29 bring a friend to the library to discover RPG – Role Playing Game – Adventures.

Perfect for anyone who's ever turned a bed sheet into a superhero cape.

For ages 13 to 17.

Are you running an RPG club or event at a library? Be sure to
let me know about it
!
---