Thirty years ago this month, James Dallas Egbert III disappeared from his college campus at Michigan State University, and hid in the steam tunnels beneath the campus to end his troubled life. William Dear, a private investigator hired by Egbert's uncle, found
Dungeons & Dragons
materials in his room, along with a cryptic map that led him to the steam tunnels. Fearing that Egbert may have been a captive, and that any statement he made to the public could endanger the young man's life, Dear made a statement about
Dungeons & Dragons
instead.
And that's how an urban legend was born.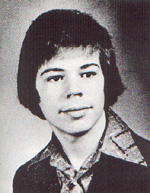 To avoid causing embarrassment and humiliation to the Egbert family over Dallas' lifestyle, Dear let his story stand for the next five years, long enough for it to do a lot of damage, before coming clean in his book
The Dungeon Master: The Disappearance of James Dallas Egbert III.
In that time, a moral panic began to grow over
Dungeons & Dragons
- suicides, homicides, and other crimes were linked to the game whenever a perpetrator (or even a victim) was believed to be a roleplayer, schools and libraries banned it from the premises, and a group of concerned (and terribly misguided) parents formed an anti-
D&D
group that "educated" law enforcement about the dangers of the game and attempted to petition the Surgeon General to require suicide warning labels on the covers of the rulebooks.
And it all began with one white lie told to protect a family from public shame.
I had completely overlooked the anniversary until I saw
this article at Geeksix
, which gives a pretty good recap of the story that covers all of the major details. You can also read my comments on the story and a quote from
The Dungeon Master
here
.
(Special thanks to the utterly awesome
Jess Hartley
for sharing the Geeksix article.)
---
| | |
| --- | --- |
| Permalink (referenced by: Posts references: Posts) | |