The Escapist Blog
is a journal on the positive promotion of tabletop, pen-and-paper roleplaying games: dispelling the myths and misconceptions, educating the public about their benefits, encouraging new generations of players, and more. For more information on roleplaying advocacy, visit the
Basic Gaming FAQ
.
Click these links!

Support the Escapist!
Buy your RPG PDFs through the DriveThruRPG Affiliate link!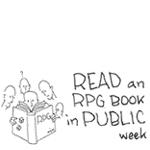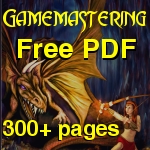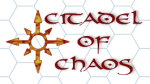 CAR-PGa
The Committee for the Advancement of Roleplaying Games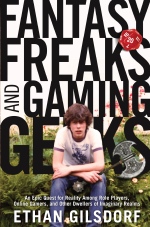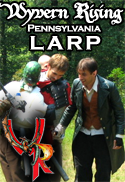 Roleplaying advocacy news and website updates for The Escapist.

Created by
WJWalton
on Tue 26 of May, 2009 11:35 PDT
Last post Fri 13 of Sept., 2013 14:03 PDT
(358 Posts | 663098 Visits | Activity=2.00)
Symbiotic Game Stores
Posted by

WJWalton

on Sat 11 of July, 2009 21:06 PDT
Recently, an old gaming buddy told me about a new game store that opened not long ago, and while I was out rather late tonight, I stopped by for a look.
The store is called "Heroes," and it's a combination sub shop and hobby store. It was after closing when I pulled into the parking lot, so I only got to peer into the glass to see a sub counter on the left side of the store, a row of glass cases filled with miniatures and cards on the right side, and several gaming (and eating) tables in between.
It reminded me of another game store I used to visit back in the mid 90s, around the time that I first started this website. It was in the front section of an Ace Hardware store in a little town called Frederica. Customers who came in looking for pipe tape, lawn fertilizer, or finishing nails would have to walk between wargame tables and racks of
Dungeons & Dragons
and
Mechwarrior
books to get them.
If I had to guess, I suppose I would say that this sort of thing is connected to the low population of gamers in our area - anyone interested in opening a gaming store would have to do so as a sideline to another business. (There have certainly been a lot of dedicated gaming stores that have tried and failed to stay afloat - I can think of at least 5 or 6 that have closed in the last decade.)
The end result - symbiotic combinations like these, where you can get a large Italian hoagie and a new set of dice in the same place.
Do you know of any game stores in unusual places? I'd love to know - post about them in the comments!
---
We're not in California anymore...
Posted by

WJWalton

on Fri 10 of July, 2009 09:47 PDT
The LA Times gives us another piece on live-action roleplaying in the military -
U.S. diplomats use military role-playing to prepare for Iraq assignments
The diplomats slept on cots and worked out of a tent on a base surrounded by re-created Iraqi villages. Each day, they strapped on flak vests over their business jackets and clambered into armored carriers to meet with local leaders, played by Iraqi immigrants. They confronted insurgent attacks, corrupt officials and sectarian rivalries.
"You can forget at times that you are in California," said Wesley Robertson, a public diplomacy officer who is trading a post in Chennai, India, for Iraq's violent Diyala province.
---
Re-archiving the Archives
Posted by

WJWalton

on Wed 08 of July, 2009 09:03 PDT
I recently started on a 'housekeeping' project that I've been putting off for
years
now - cleaning up the article archive that I've accumulated for the last 13 years.
It was quite a task - a lot of copying and pasting, and the occasional pause as I re-read a few articles that I haven't seen in quite a while.
Some of them really took me back - stories like the one about the youth pastor who
ritually sacrificed Pokemon during a sermon
, a
3.5 million dollar LARP
that the US government played in 2000, the 700 Club claiming that Magic players are
"attacking (their) living, breathing opponent by using devils to conjure demons and cast spells"
, and a
Columbine article that SFGate pulled
when they received too many complaints from Goths (one of the best reasons why I archive these things like I do).
The best part of going through all of these articles is seeing the madness dwindle. As we've advanced further into the 21st century, we've seen fewer and fewer 17th century attitudes towards
D&D, Vampire, Magic: The Gathering, Pokemon,
and
Harry Potter.
I'm no media or culture expert, so I can't say if it's because of people generally wising up, or a lower tolerance for kookery among reporters and editors. I'm just glad to see it happen, whatever it is.
Now that I have all of the pages reformatted and looking somewhat consistent, I'll get to work on the next step - making sure they're all linked from the
Archives
page.
---
Origins 2009 Report
Posted by

WJWalton

on Fri 03 of July, 2009 20:00 PDT
My Origins 2009 Report is up and ready to enjoy! Read all about it
right here
!
---
Ohio or Bust!
Posted by

WJWalton

on Mon 22 of June, 2009 22:05 PDT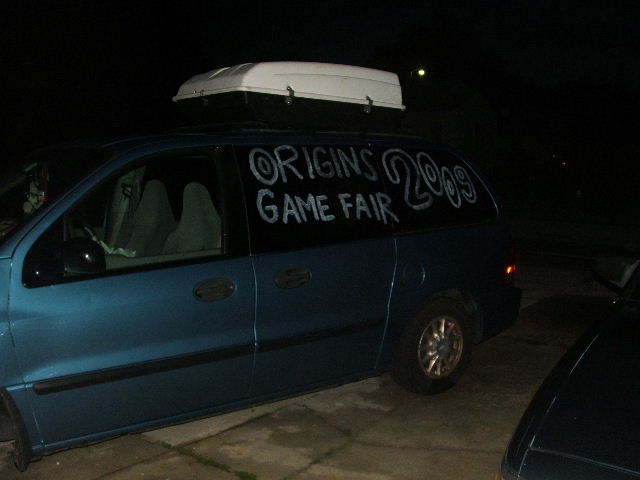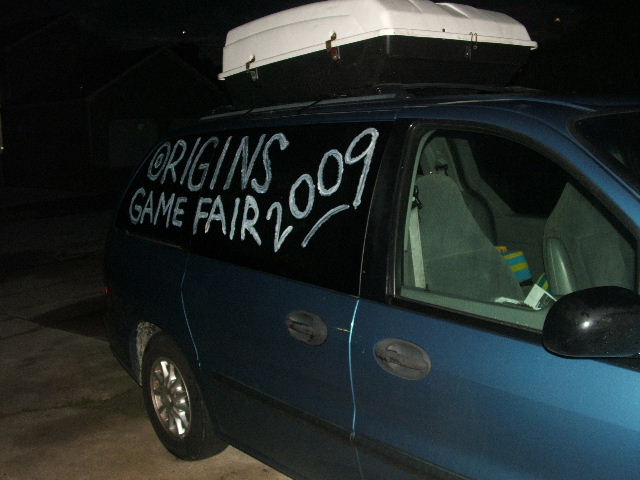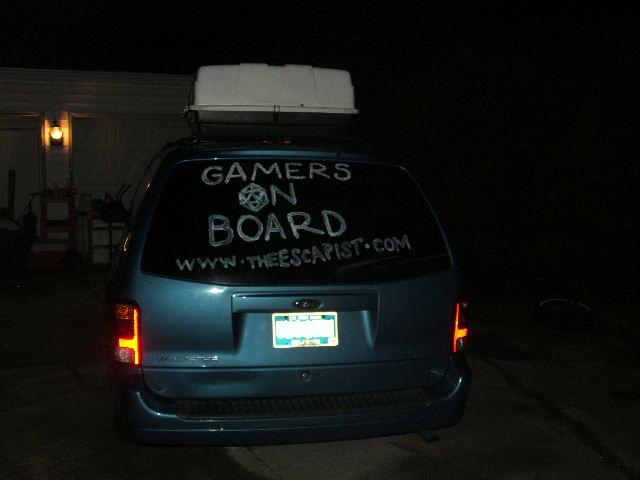 The kids and I had a bit of fun painting the minivan in honor of our trip to Origins.
Hope to see you there!
---
Escapist Tweeting at Origins
Posted by

WJWalton

on Sat 20 of June, 2009 10:00 PDT
If you're a Twitter user (which is a bit longer, but a lot more polite than calling you a 'Twit') and you would like to follow my escapades at the Origins Game Fair this upcoming week, then be sure to follow the Escapist Twitter account at
twitter.com/RPGadvocate
And if you're going to the convention and would like to meet up, send me a message through Twitter! (I won't have email after Tuesday morning when we head out, so this will be the only way to reach me.)
---
Free RPG Day is tomorrow!
Posted by

WJWalton

on Fri 19 of June, 2009 08:55 PDT
I've been so busy making last-minute preparations for Origins, that I almost forgot to mention
Free RPG Day
, which is tomorrow!
Free RPG Day is a yearly event where game publishers offer
special promotions
to customers, to get the word out about their products. It's also a great way for people who have never tried RPGs before to check out a free game and maybe even find some people to show them the ropes.
So head out to your Friendly Local Game Store, score a free RPG, and have fun!
---
Origins = T minus 7 days
Posted by

WJWalton

on Tue 16 of June, 2009 19:05 PDT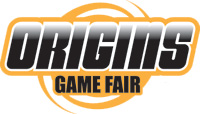 This time next week, my family and I will be making our 10-hour trek from Delaware to Columbus, Ohio for the 2009
Origins Game Fair
.
This will be my eighth Origins, the sixth with family in tow, and our fifth one in a row. And every time we've attended, we've played a lot of games, made new friends, and had a lot of fun.
I will be continuing my tradition (now in its third year!) of running RPGs for kids - and I've even added a game for the grownups this time. I'm running two games of
Toon
, and one each of
Faery's Tale, Fuzzy Heroes, Mazes & Minotaurs, Monsters and Other Childish Things,
and
Tooth & Claw
, and the 'grown-up' game is a very special episode of
Cartoon Action Hour.
My kids' games have been known to sell out quickly - last year, most of them were sold out two weeks before the convention! So if you are interested in any of them, be sure to sign up as soon as possible.
If you will be attending the convention and would like to meet up, I'm always happy to do so. You can
contact me via email
or
follow me on Twitter
- I'll be posting Twitter updates regularly at the convention.
Hope to see you there!
---
Wanted: pictures of your roleplaying group
Posted by

WJWalton

on Tue 09 of June, 2009 08:11 PDT
Recently, a reader submitted an idea that I like a lot - posting pictures of gamers enjoying a good RPG or LARP on the FAQ page and various other pages, to put a human face on the hobby for the non-gamers who visit the site.
So, if you're interested in participating, and you have some good pics of you and your group playing an RPG,
drop me an email
!
Here's what I'd like to get from you:
- A picture (naturally)
- The names of everyone in the picture (or aliases) and which of you is the GM
- Where you are from (outside the U.S. is great, by the way!)
- Your statement that I have permission from everyone in the picture to post the picture and names on my site (just a little CYA here...)
- What RPG you're playing in the picture
Thanks in advance!
---
Here comes the die
Posted by

WJWalton

on Mon 08 of June, 2009 16:00 PDT
Boingboing's Cory Doctorow blogged about
this D20 wedding cake today
.
It's so awesome that I'm at a loss for words.
---
The truth about the Voynich Manuscript!
Posted by

WJWalton

on Fri 05 of June, 2009 06:09 PDT
XKCD
demystifies one of the greatest literary enigmas of all time, the
Voynich Manuscript
: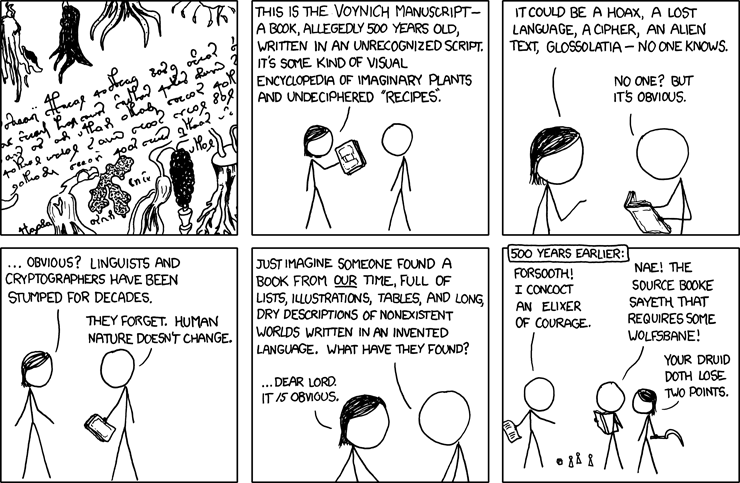 Yeah, I should have known it all along...
---
[Terra Libris] More from Liz Danforth
Posted by

WJWalton

on Thu 04 of June, 2009 18:56 PDT
Over on libraryjournal.com, Liz Danforth has posted
a new piece on roleplaying games in the library
. Don't miss it!
---
The Escapist has a blog!
Posted by

WJWalton

on Tue 26 of May, 2009 12:08 PDT

...and this is the first post!
I figure it's never too late to catch up with the 21st century. I would have done this a while ago, but certain tech limitations prevented it.
Big thanks go out to Jacob Ezzell for his help and patience, and Stormbringer (from the
Citadel of Chaos
) for suggesting a CMS and answering my myriad of questions about it.
The news and updates that I used to post to the main page will now be posted here, at
www.theescapist.com/blog
This does mean that any of you who are following the updates on the LiveJournal feed will want to subscribe to the RSS feed for this one, as I will stop updating the LJ feed after a while.
Coming soon - on-site forums and wikis. (The current Escapist wikis will be moved here when they go live.)
Stay tuned!
---
Submission rules
PLEASE NOTE: Due to an excessive level of spam accounts being created, I have disabled automatic account creation. If you would like to create an account to post to the blog, forums, or wiki, please
contact me
with your desired username, and I will create one for you. I apologize for the inconvenience.
NOTICE: Before posting to the blog comments, forums, or wiki - be sure to read the submission rules & guidelines