After the
last
two
posts about disclaimers in RPG rulebooks, I've been digging through my collection, looking for disclaimers. Here's one from a game I've always wanted to run, but never had the chance to -
Mage: The Ascension
: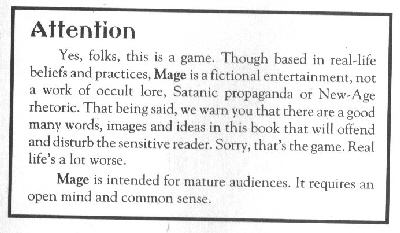 (Taken from the second edition hardback, 1995)
I checked through a lot of other
World of Darkness
books from the same time period, but most of them seem to use a boilerplate of the disclaimer from
Vampire
, with appropriate rewording ("werewolf," "mummy," etc., in place of "vampire").
Over at the
Escapist Fan Page on Facebook
, former White Wolf author Sam Chupp commented on their disclaimer policy:
"I can't remember anyone requiring us to disclaim this way. People just wrote them because they were fun to write."
---