The Escapist Blog
is a journal on the positive promotion of tabletop, pen-and-paper roleplaying games: dispelling the myths and misconceptions, educating the public about their benefits, encouraging new generations of players, and more. For more information on roleplaying advocacy, visit the
Basic Gaming FAQ
.
Click these links!

Support the Escapist!
Buy your RPG PDFs through the DriveThruRPG Affiliate link!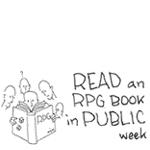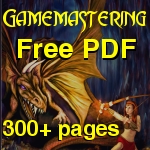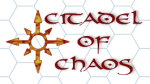 CAR-PGa
The Committee for the Advancement of Roleplaying Games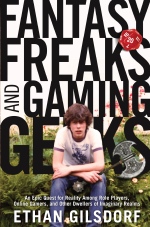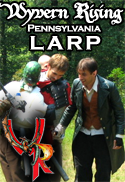 Crossed Paths - an "improvisational storytelling activity" for groups
| | |
| --- | --- |
| Posted by WJWalton on Wed 07 of Dec., 2011 04:32 PST | |
I discovered this on the
Google Libgaming group
- a diceless, GMless RPG for groups of five or more designed by Dr. Scott Nicholson. It looks like it would be a great activity for libraries, schools, or any large group of participants, and it's affordable - all the author asks in payment is feedback on your experience with it.
At the Minnesota Library Association, I created a new game called "Crossed Paths". I'm calling it an "improvisational storytelling activity" (but it's really an RPG - shh, don't tell them that until they've played it!)

It will play from 5 to as many people as you want, and will take about an hour to play the full game. It's a game to let people explore stories, books, comics, other games, TV shows, (you pick the setting) with each other.

Crossed Paths is a game that adjusts to many different settings and group sizes. Some of the possible uses are for:

· Libraries looking to create a more interactive version of a book discussion,
· Literature classes wanting to explore short stories, books, or other studied works,
· Churches seeking to encourage children or families to explore parables and tales,
· Communities wanting to explore any sort of folktales, legends, or other stories,
· Fans of a specific genre to further explore stories in that genre, or
· Groups wanting an ice-breaker where attendees can relive aspects of their favorite television shows or movies.

I've written up a facilitation guide with instructions, handouts, and bullets for slides and made it available under Creative Commons on my blog, Play Matters, at tinyurl.com/crossedpaths
---
Submission rules
PLEASE NOTE: Due to an excessive level of spam accounts being created, I have disabled automatic account creation. If you would like to create an account to post to the blog, forums, or wiki, please
contact me
with your desired username, and I will create one for you. I apologize for the inconvenience.
NOTICE: Before posting to the blog comments, forums, or wiki - be sure to read the submission rules & guidelines