The Escapist Blog
is a journal on the positive promotion of tabletop, pen-and-paper roleplaying games: dispelling the myths and misconceptions, educating the public about their benefits, encouraging new generations of players, and more. For more information on roleplaying advocacy, visit the
Basic Gaming FAQ
.
Click these links!

Support the Escapist!
Buy your RPG PDFs through the DriveThruRPG Affiliate link!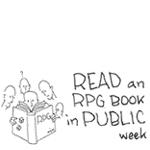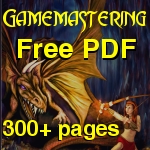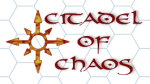 CAR-PGa
The Committee for the Advancement of Roleplaying Games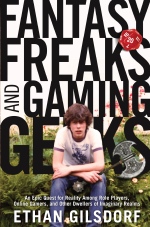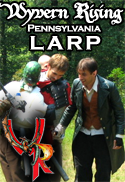 Random Article Table: Giants, Authors, Documentaries, and lots of D&D
| | |
| --- | --- |
| Posted by WJWalton on Fri 27 of Jan., 2012 07:23 PST | |
Yes folks, it's that time again when I try to play catch-up with the items that have been sitting in my inbox for way too long. Let's jump right in, shall we? Please roll 1d8+1d12 and consult the following table for your encounter:
- BoingBoing recently posted a link to this epically awesome homemade D&D module that the author scanned and submitted to the Play Generated Document and Map Archive. It is awesomely epic in its epic awesomeness. I want to run it someday.

- The Fort Wayne Journal Gazette gives a bit of coverage to the 2012 Dungeons & Dragons Experience, with video! Check it out here

- Canadian artist Chris Millar attributes D&D as one of his creative influences. Interview is here

- What happens when ten sci-fi and fantasy authors get together to play D&D at Epic ConFusion? They munchkin it up, of course. Read all about it here.

- The Lodi News-Sentinel talks to the members of the Tokay High School D&D club, explains how the game is played, tells us about the benefits, and reassures us that it's not devil worship. Sure, we all knew that already, but give them credit for spreading the word. Full story is here

- Inspired by rumblings of a new D&D documentary released to coincide with the 40th anniversary of the game next year, the Independent Film Channel's website takes a look at five documentaries about roleplaying games, including Darkon, Uber Goober, The Dice Bag, The Dungeons & Dragons Experience, and Men of War. Read about it and watch clips from all of them here.

- The Great Falls Tribune examines the entertainment value and intellectual benefits of playing D&D - but you'll have do to some clicking to read it all. They've spanned the story over six pages. (I really wish some of these websites would invest in some longer internet paper so you wouldn't have to click so much.) Read it here.

- This story on Nerd Trek tells the tale of a legendary roll of the dice.

- And finally, the New York Times visits The Twenty Sided Store and takes a look at its denizens. Read the story here.
---
Submission rules
PLEASE NOTE: Due to an excessive level of spam accounts being created, I have disabled automatic account creation. If you would like to create an account to post to the blog, forums, or wiki, please
contact me
with your desired username, and I will create one for you. I apologize for the inconvenience.
NOTICE: Before posting to the blog comments, forums, or wiki - be sure to read the submission rules & guidelines