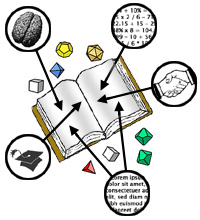 MJ Harnish at Gaming Brouhaha replied to my call for folks running RPGs in schools and libraries. I linked to
a blog post of his
a few days ago, but he gave me a few more details of his gaming plans:
I've run a gaming club at an international school for the past 6 years. The first few years we focused largely on miniatures gaming but over the past 4 years we've been gradually expanding the club's roleplaying activities.

Currently we have about 20 members, with 12 regular roleplayers, ranging in age from 12 to 18. Although we've run a variety of traditional RPGs in the past (e.g. Red Box D&D, 3E & 4E D&D, Savage Worlds), these days I tend to focus on games where the players have a lot of narrative control in order to encourage the students to participate more creatively in our games.

This year we've started off with several sessions of InSpectres, which they've all loved. Next up is either "A Penny for My Thoughts" or "Sign-in Stranger." I also have plans to run "Swashbucklers of the 7 skies", "Mouse Guard", "The Princes' Kingdom", and perhaps "Big Eyes, Small Mouth."

Right now I'm in the process of trying to train a GM or two because a single group of 12 doesn't allow the students enough individual screen time and tends to lead to very chaotic games.
MJ promises to post regular updates on
Gaming Brouhaha
, so if you're interested, be sure to subscribe to his feed!
---