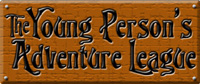 Dr. Awkward here. The esteemed Mr. Walton has given me permission to make log entries in his electronic journal as I wish, to bring you any news items that I happen upon that could be of interest regarding adventures with young people. And I think I have just such an item for you now:
The electronic journal of the KORE role-playing game has begun to post weekly entries on "Villains for Kids." These are descriptions of bad guys that can be dropped into an adventure game for young people - no statistics are given, so you can use them with the rule system of your choice.
The series begins with first dastardly fiend, The Tricky Trickster, and more are promised each week. Kevin, the author, has even been kind enough to tag the log entries for ease of reference. Just visit
www.korpg.com/blog/?tag=villains-for-kids
when you're in need of a good bad guy.
Keep your dice dry! Awkward out.
---