The next in our series of RPG disclaimers: two specimens from Palladium rulebooks.
When Palladium no longer held the license to publish material for the
Teenage Mutant Ninja Turtles
RPG, they rebooted and expanded it in 2001 as
After the Bomb
, a post-apocalyptic setting with mutated animal heroes. Here is the disclaimer that appeared in the front of the rulebook - it seems that Palladium wanted to cover themselves against any acts of vigilantism that may have been inspired by their game: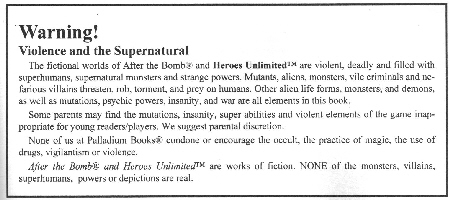 While digging through my old
TMNT
books, I found this in the adventure module
Turtles Go Hollywood
, which featured an encounter with a sleazy drug dealer:

(
See all of the other RPG disclaimer posts.
)
---