Here's another RPG disclaimer, this one from the fourth edition of
Ars Magica
by Atlas Games, the same people who gave us that great disclaimer in the
Over the Edge
rulebook: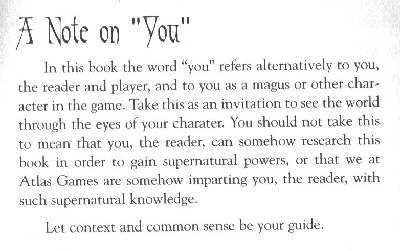 Coming up: disclaimers from
Everlasting, Witchcraft, Little Fears,
and (though I may live to regret it)
HoL
. Do you know of some great RPG disclaimers that haven't been covered yet? If so, scan them, and send them my way!
(
See all of the other RPG disclaimer posts.
)
---