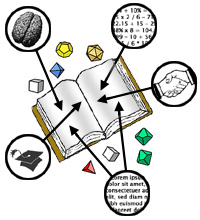 Matthjis, one of the good people who follow my
Twitter account
pointed out two great sites on roleplaying in schools - one that I knew about and had been meaning to mention, and another that was completely new to me.
I saw a website for the Lærelyst method about a year ago, but their website appears to be down. There is a site called Nordic Serious Games that mentions
APlay Motivation
, which uses the Lærelyst method - but there's not a lot of information available:
Lærelyst uses traditional tabletop role-playing within a motivational framework to structure and reward schoolwork. Teachers run role-playing scenarios, and intersperse them with learning exercises. When students work through their exercises, they gain points to use in the game. The exercises can easily be differentiated, so that students can be challenged on their own level. Teachers can create their own exercises or download them from the Ratatosk database.
(I seem to recall seeing some unusual dice on the original website - d10s with pips that didn't go higher than 5 or 6, and I'd love to know more about how they are used.)
Next is a PDF I was unaware of -
Role-playing games and education in Brazil: how we do it
, brought to us by the intriguing website
LARP, the Universe, and Everything
:
While still a minor phenomenon, role-playing game techniques have increasingly found a use in education in Brazil. In this article we will present a brief historical survey, focusing especially on teaching materials such as adventure books, tabletop books and some of the larp techniques used by educators inside and outside of classrooms. But we also aim at presenting some examples of how these techniques work in practice, including our own experience of them, and we will argue the importance of having a strong basis in educational theory to guide such interventions.
What follows is a brief history of RPGs in Brazil and a listing of various textbooks that feature roleplaying in one capacity or another - including a series of GURPS books that teach history. The article is brought to a close with a section on considerations on using RPGs to educate.
Great stuff. If only we could find a way to encourage these methods in other countries - especially here in the States. If you know of other such programs, or even know more about the ones I have listed here, please let me know about them - in comments,
email
or through
Twitter
.
---