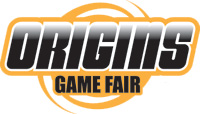 This time next week, my family and I will be making our 10-hour trek from Delaware to Columbus, Ohio for the 2009
Origins Game Fair
.
This will be my eighth Origins, the sixth with family in tow, and our fifth one in a row. And every time we've attended, we've played a lot of games, made new friends, and had a lot of fun.
I will be continuing my tradition (now in its third year!) of running RPGs for kids - and I've even added a game for the grownups this time. I'm running two games of
Toon
, and one each of
Faery's Tale, Fuzzy Heroes, Mazes & Minotaurs, Monsters and Other Childish Things,
and
Tooth & Claw
, and the 'grown-up' game is a very special episode of
Cartoon Action Hour.
My kids' games have been known to sell out quickly - last year, most of them were sold out two weeks before the convention! So if you are interested in any of them, be sure to sign up as soon as possible.
If you will be attending the convention and would like to meet up, I'm always happy to do so. You can
contact me via email
or
follow me on Twitter
- I'll be posting Twitter updates regularly at the convention.
Hope to see you there!
---