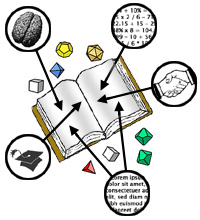 Since school has (mostly) begun again here in the United States, I've been putting out the call on Twitter and here on the blog for information from anyone who is running (or planning to run) RPGs for kids at schools or libraries.
My plan (as always) is to gather stories, experiences, tips, and advice that others can use if they want to organize such a program - and to give a bit of a nudge to those who have been thinking about it and just need a little push to get it started.
I received the following email from Dan (who, for privacy reasons, has asked that I not name the school where he works):
I am the Network Administrator at a New England private high school. Last year, I ran a D&D game every other week. Almost all new players, a mix of freshmen and seniors. We played 4th edition, and started on Keep on the Shadowfell. We had about 6 regular players. The only issues we ran into were of a scheduling variety, as the underclassmen don't have a lot of unstructured time, and we don't quite get a 4 hour session, which leads me to the second problem. KotS was too long an adventure for an every other week 3 1/2-4 hr session game to fit comfortably in a school year.

If there is interest I intend on trying to make this a tradition, with a couple of changes.

1. Modules designed for 4-hours. Either delve format or more likely living forgotten realms.
2. One module/session
3. Entertaining the possibility of opening up the game to other genres/systems/games
4. Limiting participation to Juniors & Seniors (Grandfathering the sophomores from last year though)

Things that I learned:

1. D&D 4 is very accessible, to non tabletop gamers (the kids were geeks however)
2. Human Fighters aren't the 'safe' newbie class anymore
3. Explaining power sources and roles are very important to a new player matching up to a class that 'clicks' enough that they're easy to learn (related to #2, the human fighter's player had a really tough time being relevant. After a talk about what she wanted her character to do, she picked a cleric, and took to her really easily)
4. Was surprised that the players gender-ratio was practically 1:1, with a slight favoring of girls
5. There was a fair number of kids who wanted to kibitz. This caused some problems, as they were a distraction to an already too big group. In the future, I'll probably give them NPC's and monsters to run.
I also received an email a little while ago from Eric Basir, who ran the
Marvel Super Heroes
RPG for a small group of kids as an after-school role-playing club at a parochial school in Illinois. His description of it is too perfect not to share:
My attempt to work with children, teens (and youthful adults) to use their imaginations to interact with one another in a make-believe environment with the purpose of promoting good manners, spirituality and righteous competition.
He has collected the videos into two playlists - you can watch them
here
and
here
.
That's all of the response I've seen so far, and while those are two excellent testimonies, I want MORE! Are you running any RPGs at schools or libraries? Share your knowledge and experience with us!
---