Related sites:
The Escapist
CAR-PGa
Gaming Outpost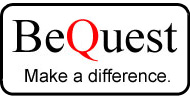 BeQuest is a project aimed at getting gamers involved in charitable efforts -
making donations, organizing drives, volunteering time, giving of themselves. In short,
making a difference. --- Giving of yourself builds character, it aids those in need, and it shows
the world that gamers are good people. It's a three-way victory. --- There's nothing wrong with
playing the roles of imaginary heroes, and there's nothing to compare with playing the roles of real-life ones.

FAQ
What BeQuest is,
and what it isn't.

NEWS
What's going on?

IDEAS
Borrow, share & steal
TOOLS
For the right job.
FORUM
Talk it over
LINKS
Other places to go