July 7th, 2000
Back In The Saddle Again

ell, here I am. In Delaware, Ohio. New state, new town, new job, new life. And I'm as scared as hell. Boxing up everything you own, sticking it into a truck, giving all of your family and friends a goodbye hug and moving 500 miles away from the second-to-the-smallest state where you've spent your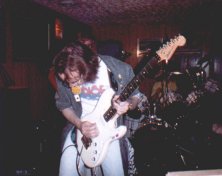 entire life is a very scary thing to do.
But it's an exciting kind of scary, a new-school-year kind of scary. A "what-will-she-say-if-I-ask-her-to-the-dance" kind of scary, if you will.
It's been a sufficient amount of time since I posted the first teasers about "something big" looming in the future. Many thought it was the redesign and relocation of the page to it's own domain name. Well, that wasn't it.
My recent relocation was for employment reasons. I have accepted a position with MindShift Design as a Content Developer, where I will be working on content for web projects and games, including some PBeMs and tabletop RPGs. MindShift is also very interested in the advocacy front, and we have an intriguing advocacy project in the works, with more on the way. I'm going to be doing my best to keep all of this carefully orchestrated with The Escapist, and I'm counting on all of you to let me know how I'm doing.
Oh yeah... and I get to play games again, after a 3 year hiatus in a town whose idea of gaming is betting on which mosquito will hit the bug zapper first. Wuh-hoo!
So, it looks like I'm back. Back to the page, back to gaming, and generally back in the saddle, after being gone way too long. Hope I don't fall off.
wjw


P.S. Some points of interest that nearly got lost in the move:
First, The Escapist got a mention on the Six Siders radio show. While listing their favorite websites, Photon listed mine as his second favorite. I was so thrilled that I forgot who beat me out. Thanks, guys!
Second, as you might have noticed by reading the guestbook, the site also won Bravenet's site-of-the-week award. Thanks, Bravenet!
Third, Gaming Outpost, who hosts my site and supplies me with my nifty domain name, is now the home of the official Escapist forum. I'm going to be working with Ed Healy on getting the forum coordinated with the page on this end, but until then, you can visit the forum by going to Gaming Outpost and clicking on the "Forums" button on the left side of the page. If you would like to post to the forum, you'll have to sign up with GO. It's easy, costs nothing, and no salesman will call.
Fourth, Ed and I will also be getting together at Origins next week to discuss possible additions to the page. If you have any ideas about how the page could be improved, e-mail me and let me know!
Fifth, yes you heard right, I will be at Origins this year, since it is practically in my backyard now. If you'd like to get together, you know the drill - drop me a line! It would be great to meet you! It is also likely that I will be making an appearance at Gen Con this year, but that's still in the air. I'll keep everyone posted.
Sixth, I am fully aware that moving out of Delaware State appears to have removed one strike from Mr. Blackburn's bastardization of my character in Knights of the Dinner Table (see April 1st's "Coincedence... or CONSPIRACY?") and that the recent death of my 1987 Chevy Nova removes yet another. BUT, my move has brought me to DELAWARE, Ohio... in DELAWARE COUNTY, which is the ONLY place in central Ohio that I could find a decent apartment to house my family! It is obvious that Mr. Blackburn's oily tentacles reach far into the gears and pulleys of all of our life's machinery!
wjw