NEWS AND UPDATES - 2009 Archive

You are currently reading archived Escapist updates.
To see the latest news items, go to the Escapist blog.
Previous updates by year: 2009 - 2008 - 2007 - 2006 - 2005 - 2003 - 2002 - 2001 - 2000
1999 - 1998 - 1997 - 1996

June 3rd, 2009 (link to this)

THE ESCAPIST HAS A BLOG!

- After a lot of teeth-grinding and hair-pulling, I have managed to install a Content Management System in a special section of the site. This means news and site updates will now be posted to a proper blog (complete with comment system), and later I will be able to add a new forum and wiki. The current Escapist wikis will be moved there when they go live.

I figure it's never too late to catch up with the 21st century. I would have done this a while ago, but certain tech limitations prevented it.

The news and updates will now be posted at www.theescapist.com/blog This does mean that any of you who are following the updates on the LiveJournal feed will want to subscribe to the RSS feed, as I will stop updating the LJ feed after a while. I plan on keeping the 2009 updates here on the main page for the rest of the year before archiving them.

(Big thanks go out to Jacob Ezzell for his help and patience, and Stormbringer (from the Citadel of Chaos
) for suggesting a CMS and answering my myriad of questions about it.)



May 20th, 2009 (link to this)

RPGGAMEFIND.COM

- Finding other gamers in your area to enjoy roleplaying with has always been a challenge, but the internet age has been making it a lot easier. I recently received an email from the admin of RPGgamefind.com, asking if I would help spread the word about this new networking tool. Check it out, sign up, and find some people in your area to adventure with!



WORLDWIDE D&D GAME DAY -

This Saturday (May 23rd) is Worldwide D&D Game Day! Play some

D&D

! Find a WWDDGD event at a store near you! Teach some new gamers to play! Teach some kids to play! Start up a group at your local library! Share the hobby, and share the fun!




(Boy how the time flies. It seems like the last Worldwide D&D game Day was just a couple of months ago...)




May 12th, 2009 (link to this)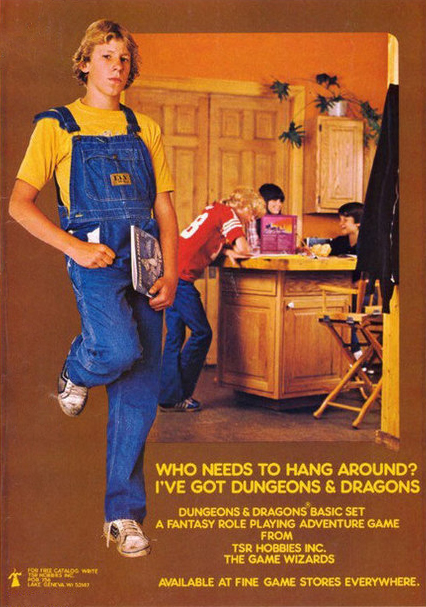 D&D AS A SAVING THROW VS. LIFE - It's funny the way things happen, sometimes. I recently found the ad on the right while fooling around online. I'm not sure where it ran, or if it's even legitimate, but it made me smile.

Then, I received the following email, and it made me smile even more. It wasn't until I was getting ready to post them seperately that I realized how they were connected.



Dear Escapist,

I just recently became aware of your site after stumbling on it while I was surfing the web. I spent what turned out to be a few hours looking through the material and am fascinated by what you have to present. I'm inspired by what you've put together as I've faced many of the same obstacles over the years.

I was introduced to Dungeons and Dragons at the age of 12 by older family members who had discovered it while they were in college. The game inspired me as nothing else could. I'm now 33 years old and am still a very active gamer.

I grew up in a small town in Minnesota. I had been involved with D&D periodically until I was about 16 and then it became a foundation of stability for me.

There were five of us at the core of our group of friends. From the age of 16 through my early 20's many weekends were full of drunken parties and wild times. We often would get very much out of hand resulting in 20 plus run-ins with law enforcement. To make things worse, home lives for some were less than desirable.

To this day I know D&D is what kept us together and prevented us from going over the edge with any of our crazier activities. When game night came around each week, no alcohol or any other influence was wanted by anyone. The game was pure and we wouldn't let anything get in the way of what we could envision with our minds. The game is what pulled us away from the other "activities".

Over the years each of us faced physical and emotional challenges in life and if it wasn't for the game I don't think we would all be around to talk about it. I very much believe that D&D saved lives for some of us and kept us off a trail leading to disaster. No matter what was going wrong, our friends and the game were always there.

Today we all have families and successful careers. We can't get together as much as we would like but still will make game night happen a few times a year. We often reminisce about the early days, not about the problems but about the great adventures we had rolling dice around the table in my parent's basement.

We all have faced the negative connotations about the game from parents, friends and others many times over the years and all of us have stood our ground on the subject because we know what it ultimately did for us.

It is really great to see that you had the initiative and took the time to compile this information. Thank you.

Sincerely,

Steve


Thanks for the story and the kind words, Steve. I always love get emails that share fond memories of gaming, and the good things that come out of it.

Do you have one, too? Why not send it to me?



April 24th, 2009 (link to this)

TWO GREAT BLOG POSTS

- I read a lot of roleplaying blogs, and I'm always finding posts that I'd like to share. I've been considering posting a list of my favorite blogs, and maybe even listing some of the best posts of the week every Friday, or something like that.

This time, it just happens to be two posts from Gnome Stew:


If you have a roleplaying blog that you think I may not know about - or you've read (or written) a blog post on gaming advocacy that everyone should read, be sure to drop me a note -


April 20th, 2009 (link to this)

COLUMBINE - TEN YEARS LATER

- Today marks the tenth anniversary of the day that Eric Harris and Dylan Klebold killed 13 people and themselves in what was, at the time, the worst act of school violence in American history.

USA Today recently published 10 years later, the real story behind Columbine, which brings to light many of the misconceptions that people still hold about that tragic day:



They weren't goth or emo or members of the Trenchcoat Mafia.

Their crime wasn't inspired by playing

Doom

, or

Quake

or

Dungeons & Dragons

or

Vampire: The Masquerade

, or listening to Rammstien or KMFDM or Marilyn Manson, or watching

The Basketball Diaries

or

The Matrix

.

They didn't seek out victims based on their religion or ethnicity. They didn't target jocks or Christians. Cassie Bernall's martyr story is a complete fabrication.

They didn't do it because their science classes taught evolution, or their school refused to hold mandatory prayer sessions.


In short - the terrible killings at Columbine didn't happen because of something that you don't like. It just happened. It was a horrible act of savagery performed by two deeply disturbed youths who felt that they needed to get even with the world. It is careless and irresponsible for any of us to try to attach our own agenda to it in the hopes of eliminating the parts of our culture that we don't like.

For the rest of us, the questions we should be asking ourselves are these - How much of this is news to us, and why did it take them ten years to tell everyone?




(If you'd like to do a little time traveling, check out the

Escapist's Advocacy Page for April of 1999.)



April 8th, 2009 (link to this)
DAVE ARNESON, R.I.P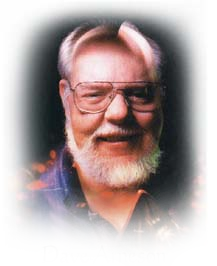 (photo by

Kevin McColl

)


It's been a year and a month since we lost one of the co-creators of the original

Dungeons & Dragons

,

Gary Gygax, and today the news comes to the roleplaying community that Dave Arneson, the other half of that creative team, has passed away.

I didn't post anything more than a picture and a caption when Gary left us last year, and I think that was mostly because so many others had covered his life and contribution so well, from the blogs of some of my close friends to Time magazine and Stephen Colbert. There wasn't much that I could say that hadn't already been said.

Mr. Arneson's passing, however, will probably not receive the same amount of attention. Some have remarked that he was more of a silent partner, and uninterested in being known for his contribution to the game. Because of this, his name hasn't gained the same level of recognition as Gygax's.

Regardless, both men were responsible for a wonderful creation that inspired millions of players to create heroes and stories, and worlds to contain them both.

It would never be possible to estimate the positive effects that

Dungeons & Dragons

had on our present day culture - the friendships that were forged, the artists and authors who became inspired, and the imaginations that were set free - but we can make a pretty good guess that they were great.

Thank you, Dave and Gary.



March 31st, 2009 (link to this)

FETCH ME SOME LARPERS

- For a couple of years now, my daughters and I have enjoyed Fetch! with Ruff Ruffman, a spoof game show on PBS that encourages a group of six kids to earn points by exploring and thinking creatively. Today I read a blog post by GeekDad writer (and friend of The Escapist) Daniel Donahoo (who in turn found it on Purple Pawn) about an epsiode of

Fetch!

that features LARPing as the theme.

Okay, maybe it's not LARPing as most of us know it - it's really just a bunch of kids in costumes, running around and solving riddles and physical puzzles. And the fact is, that's really the content of every other episode of

Fetch!,

minus the costumes, of course. But it's good to see LARP mentioned on a show that promotes creative and critical thinking for kids, and in a way that presents it realistically - as a little bit geeky, and a lot of fun.

And who knows? It could inspire a few viewers to explore the LARP hobby further!

The videos are below. (Watch them soon - you know how YouTube is!)







March 28th, 2009 (link to this)

OGWWTBATE, DAY 69 - It appears that our target, Wil Wheaton, has recently been involved in two things that are relevant to our interests:



He was
elected the US Secretary of Geek Affairs

He began blogging about playing the new edition of

Dungeons & Dragons

with his son and some of his friends. (You can read the posts here -

part I

, p

art II

, p

art III

,

part IV

, and

a few thoughts...

)


I would imagine that someone holding an important position like

US Secretary of Geek Affairs

would want to have access to every available resource that would help them serve the interest of geeks all over the country. Gee, if only there was a website that would provide him and his readers with all sorts of information on roleplaying advocacy, playing RPGs with kids, and other ideas and inspirations for the positive promotion of roleplaying.

Gosh, just think, if there

were

such a site, he could post a link to it in his blog!



March 20th, 2009 (link to this)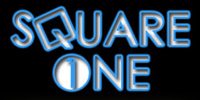 SQUARE ONE, EPISODE FIVE - It's been a year in the making - you've waited one entire solar cycle - but now the wait is over. Episode five of the Square One podcast is now available! This episode is all about finding a game group, while staying safe and having fun at the same time.

Square One is a podcast devoted to helping new gamers discover all of the great things about the hobby. If you know someone who is thinking about giving RPGs a try, let them know about the podcast! You can listen and subscribe at www.squareonepodcast.com




WORLDWIDE D&D GAME DAY -

Tomorrow (March 21st) is Worldwide D&D Game Day! Play some

D&D

! Find a WWDDGD event at a store near you! Teach some new gamers to play! Teach some kids to play! Start up a group at your local library! Share the hobby, and share the fun!






ARE THOSE THE DUNGEONS AND THE DRAGONS? -

I found this on YouTube recently and got a big kick out of it.:



(Pay close attention to the hands on the clock at the end. They're sending you a subliminal message!)






March 8th, 2009 (link to this)

ESCAPISTCAST EXTRA -

I was recently contacted by Ed Healy about creating content for a syndicated internet radio program called War Pig Radio. Since I rarely pass up the opportunity to promote the site and the cause, I agreed, and Escapistcast Extra was born.

Escapistcast Extra is a "minicast" - a single serving portion of roleplaying advocacy audio - a short discussion on a particular advocacy topic, served up by yours truly. I've made it available to anyone who wishes to add it to their podcast or internet streaming station - all I ask is that you leave the episode intact and complete, and notify me that you're rebroadcasting it -



I've got a short blurb and an album art image to go with the minicast that you are free to use as well:



Escapistcast Extra is a "minicast" - a single-serving portion of the full-size gaming advocacy podcast, The Escapistcast. Each installment, your host Bill Walton discusses a different topic on the positive promotion of the roleplaying hobby. Find out more about gaming advocacy and how you can become involved at www.theescapist.com

The episodes will run between 10-20 minutes, and I will include them in the regular Escapistcast feed so that you'll be able to catch them along with the full episodes.

The first episode, on RPGs in libraries, is ready for your listening pleasure at:


As always, thanks for listening, enjoy the shows, and please let me know how I'm doing!



March 6th, 2009 (link to this)

RV PARK HOSTS A LUAU LARP -

The Desert Sun has a short article about a Hawaiian-themed murder mystery party event held at the Happy Wanderer RV Park in Palm Springs, California.

There's just something about the concept of a luau LARP at an RV park that makes me really love this country.



March 3rd, 2009 (link to this)

THE FO(U)RTH OF MARCH -

Tomorrow is GM's Day, a holiday created by gamers to pay special tribute to those tireless, selfless souls who supply us all with so much adventure.

Like any good holiday, it has become terribly commercial - numerous RPG companies are offering GM's Day discounts during this entire week. (You can find an extensive list of them at the original GM's Day thread on ENWorld). But for those traditionalists out there, who remember the

true

meaning of the holiday, it is a time to let gamemasters know that we appreciate all that they do for us.

So do something nice for a GM tomorrow. And if you

are

a gamemaster - Happy GM's Day from The Escapist!

(It also happens to be the first anniversary of the day we lost Gary Gygax, so remember to pour a 2 liter of Mountain Dew on the curb for him tomorrow.)






March 2nd, 2009 (link to this)

ASK LYNN -

Lynn Harris (journalist, essayist, and creator of breakupgirl.com) recently gave out some refreshing advice on her MSN Lifestyle column Ask Lynn.

A reader asks what to do about her boyfriend, who spends most of his time playing

Warhammer

and

Dungeons & Dragons,

to the detriment of their relationship (and even some of his other adult responsibilities).

I'm sure in a lot of cases, the stock advice column answer to such a problem would have been something along the lines of "Dump that loser and find someone who has a

real

life." But Lynn seems to have much more wisdom and savvy than that - she remarks that she's "even impressed that your partner seems to be kicking it old-school, as D&D and Magic still rely on the "classic" interface otherwise known as "playing with people who are actually still in the same room as you."

She

even

recommends that she talk to her boyfriend about "whether you should check this gaming thing out for yourself; perhaps, if you enjoy it, that could be some couple-time, too."

Sure, it sounds like Warhammer Widow's boyfriend needs a big reality check - but gamers still get written off as worthless all too frequently. It's always nice to see someone break that nasty habit (and recommend that they try out the hobby, to boot!).

(Hat tip to W. Douglas Bramlett, who posted this to the Escapist group on Facebook.)



February 26th, 2009 (link to this)
R.I.P. PHILLIP JOSE FARMER - The author of the

Riverworld

and

Dayworld

books, Phillip Josť Farmer, passed away yesterday at the age of 91. The Riverworld series, for which he was best known, was about a massive social experiment where everyone who ever lived in the history of Earth was reborn on a new world and left to rebuild new societies and cultures.

Farmer wasn't a roleplaying author, designer, or publisher, or even a gamer (as far as we know), but his connection to roleplaying illustrates two of the great benefits of the hobby:



Putting noses into books -
Roleplaying games like
GURPS Riverworld
have brought many new fans to books that they might not have been aware of otherwise. I can vouch for this one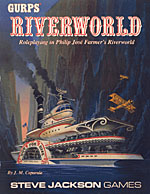 personally - I knew nothing of
Riverworld
or Farmer before the GURPS sourcebook came along, and I dug into the series not long afterwards. That is one of the greatest benefits of the roleplaying hobby - encouraging gamers to read and discover new books and authors.

Sharing the sandbox -

According to

today's SJGames Illuminator

, Farmer not only recognized roleplaying games as a storytelling medium, he approved of people playing in and exploring the world he created. He even went as far as to make

GURPS Riverworld

the official 'series bible' for others who wanted to write stories in his world. (Now if we could only get some

other authors

to feel the same way about it.)


Thank you for the stories, Mr. Farmer... and for encouraging us to create our own.


ONE OF US, ONE OF US - Thanks to our old friend Nate and an anonymous commenter on the site feed, who both pointed me to Tim Duncan's Wikipedia entry. Yep, it appears that he's a big ol' gaming geek. It looks like we can add him to the list after all.



February 25th, 2009 (link to this)

D&D IN THE NBA? -

A friend recently pointed out a USAToday Weekend article on the myriad of tattoo designs on NBA players that includes this:



The Spurs' Tim Duncan can hurt you on the court -- and in the Forbidden Forest. He likes playing Dungeons & Dragons so much, he got a tattoo of the wizard Merlin on his chest.


So, does anyone know if this is true? Is Tim Duncan really a roleplaying geek? If you can confirm this story, please let me know.


February 24th, 2009 (link to this)
ALA TO GIVE GAMING GRANTS - The American Library Association is planning to issue grants to ten libraries that are "interested in developing and implementing innovative literacy gaming services for youth ages 10-18." This could be an excellent opportunity for anyone interested in promoting RPGs in the library. For more information, check out the Terra Libris page.
GAMES ON THE TABLE - TimothyP at the Games on the Table blog gave my lil' ol' site and podcast a very nice review a couple of days ago. So this is a quick "thank you" to him, a warm welcome to GotT readers, and a promise that I will check out GotT some more when I get a little free time!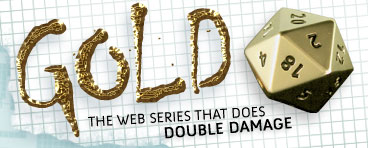 "GOLD" EPISODE 3 IS LIVE - The third episode of Gold, the web series that does double damage, has just gone live at www.goldtheseries.com.
(Please remember to watch with discretion - Gold contains language and content that is not suitable for all audiences.)

February 20th, 2009 (link to this)

HEADED TO DREAMATION

- This is just a quick reminder that I and my entire clan - both of my daughters, my partner Paula, and myself - are heading out to Dreamation this weekend. We'll be there all day the 21st and 22nd, and I'm going to run a TOON session for kids & adults on Sunday at 2:00pm.

If any Escapist readers are planning to attend, and you would like to meet up, drop me a message on the Escapist's Twitter account. (I won't have email access while I'm there.) If I find the time, I'll try to post some remote Twitter updates while I'm there.


February 16th, 2009 (link to this)
EPISODE 5 OF THE ESCAPISTCAST IS LIVE - The fifth episode of The Escapistcast, "Schools & Studies," is now ready for your listening pleasure at www.theescapist.com/escapistcast

February 6th, 2009 (link to this)

GARY GYGAX: BITTER ARCHITECT

?

- The Daily Vidette at Illinois State University has an interesting column about pass-it-along legends that includes a reference to

D&D

co-creator Gary Gygax:



Gary Gygax, the creator of Dungeons & Dragons, was the architect who designed Watterson Towers. Yes, in his late twenties he sat down and drew up the plans for the infamous twins that tower over campus. He did so right after he finished fleshing out the rules for his cult classic game.

He died last year a bitter man, knowing that Watterson got the credit for his masterpiece.



That's just one of the legends that surround the local landmark, and columnist Brett Gould goes on to explain why we shouldn't believe everything we hear or read in an email, nor should we pass it along to 10 friends in our address book in the next 20 minutes to avoid something bad happening to us.

Now, if only THIS was the worst urban legend that had ever been circulated about Gygax and

D&D...



Read the full column here: Pass on to 10 people



February 5th, 2009 (link to this)

DREAM A LITTLE DREAMATION

- It looks like my entire clan - both of my daughters, my partner Paula, and myself - will be attending Dreamation on February 21st and 22nd, in Morristown, New Jersey. I will probably run a couple of RPG sessions for kids & adults - I just haven't decided which ones at the moment.

If any Escapist readers are planning to attend, and you would like to meet up, drop me an email at

- or on the Escapist's Twitter account.

(Please note that the convention runs much longer, from February 18th-22nd, so if you go, don't miss out on half of the fun!)

Special thanks go out to the Albrights, some good friends of ours who offered to share a room with us - and of course, the good folks at Double Exposure, who were kind enough to let me in at such short notice.




OGWWTBATE, DAY 17 -

It is day seventeen of Operation Get Wil Wheaton To Blog About The Escapist. I've heard some reports from operatives who have emailed him, including David Nett (from Gold: The Series) and my old friend Stormbringer (organizer of the Citadel of Chaos). Recently, Wil made a blog post about a D&D 4e game that he played in, and I dropped in a comment recommending the site. But he still hasn't taken the bait.

We may have to ramp things up sooner than expected. Tell Unit W to stay on alert and wait for my signal to drop the leaflets.



February 2nd, 2009 (link to this)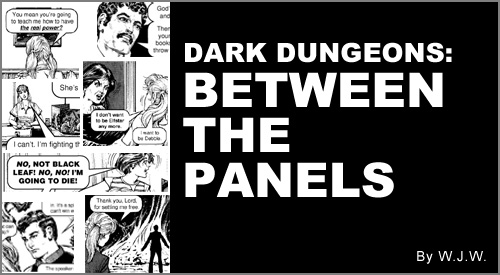 DARK DUNGEONS: BETWEEN THE PANELS

- It's been a long time in the works, and I am happy to announce that the latest installment of Random Encounter is finally up!

Twenty-five years ago, Chick Publications released

Dark Dungeons,

a comic tract that followed the story of Debbie, a young girl involved in a dangerous game of life and death.

Dark Dungeons: Between the Panels

takes a look back at the creation of that tract, with interviews with five of the characters from the story. Learn the tale between the panels of

Dark Dungeons!








January 31st, 2009 (link to this)

CONTEMPLATING A CHANGE

- I have recently learned that I have some new options available to me with the site, and I'm considering my options. I can now set up a WordPress account and begin doing the news updates in blog format, which will make subscribing to the feed a bit easier & tidier, and allow for reader comments.

I'm considering going all the way and rehauling the site with a Content Management System, something that will help make everything more consistent & clean. I know very little about this, however, and I'd really like some advice on how to set it up and maintain it. If anyone out there is willing to help out a complete N00B, please drop me a note at

Thanks!






January 28th, 2009 (link to this)

HELPING LARPERS FIND LARPS

- Writer Lizzie Stark, who gave us the excellent Philadelphia Inquirer article Well Organized Make-Believe last September, is putting together a tool to help LARPers find LARPs in their area - The Massive LARP Calendar. She is using Google Calendar to make a searchable resource of LARP events everywhere.

Find out more at her blog.



January 23rd, 2009 (link to this)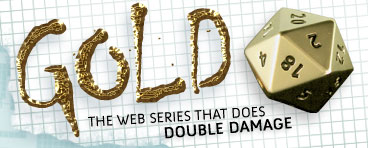 "GOLD" EPISODE 2 IS LIVE - The second episode of Gold, the web series that does double damage, has just gone live at www.goldtheseries.com.
The story has started to build as the group prepares for the upcoming Goblins & Gold World Tournament, and in this episode we get a brief introduction to their competition.
(Please remember to watch with discretion - Gold contains language and content that is not suitable for all audiences.)
OPERATION GWWTBATE: DAY 4 - It is Day 4 of Operation Get Wil Wheaton To Blog About The Escapist. On Day 1, I sent an email to his address (found here) with a friendly request to visit the site and consider blogging about it. Today, I also got an email from David Nett (from Gold: The Series) informing me that he dropped him an email about his web series, and mentioned the site as well.
I've also been monitoring his blog for relevant posts (we're not trying to "spam" him, after all), and the next time he posts about RPGs, I'll make a comment suggesting the site.
So, how about you, soldier? Have you done YOUR part?

January 19th, 2009 (link to this)

A NEW MISSION

- This morning I got the word, via my RSS reader, that the most excellent gamemastering blog

Gnome Stew

just got mentioned on Wil Wheaton's blog.

I'm very happy for them. Martin Ralya and company put together a quality blog, and the attention is well deserved.

But I also want some of that action for myself.

I want Wil Wheaton to mention The Escapist on his blog.



The fact is, I have emailed Wil Wheaton on a few occasions since 2001 or so, asking if he'd take a look at the site and maybe mention it on his, if he liked what he saw. I've been friendly and polite, but I have never received a response - either my emails went directly to his spam filter, or were just lost in the massive amounts of fan email that he probably gets daily.

Or maybe he didn't like what he saw. But I seriously doubt that. Wil loves playing RPGs with his kids, and is all about activism in so many ways. So it's got to be one of the other two

Therefore, I am initiating

Operation Get Wil Wheaton To Blog About The Escapist,

and encouraging Escapist readers to find any way that they can (short of breaking any laws or inflicting property damage or injury to themselves or others, of course*) to put this site on the Wheaton radar.

Why is this so important? Because I think the kind of exposure that Wil's blog would bring to this site would do some great things for the positive promotion of roleplaying games. Here are my calculations, which I worked out on paper over coffee this morning: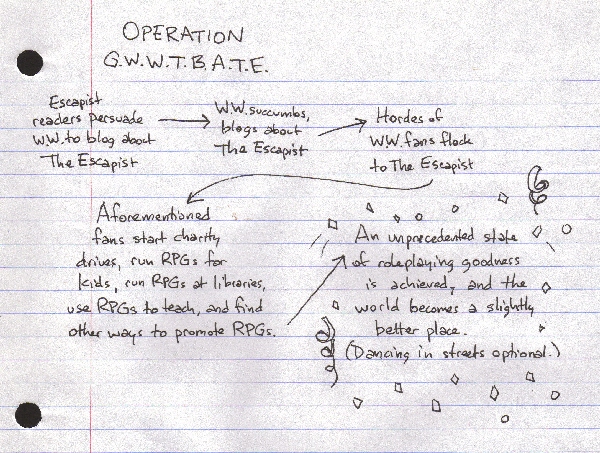 I'm certain you'll agree that those are some pretty solid calculations, right there.

I've set up a special WHEATON WHATCH notice near the top of the page, below the left menu - it is updated constantly, and will change from red to green on that fateful moment when our mission is accomplished.

So send those emails, write those blog comments, and send me your ideas on how to encourage Wil Wheaton to blog about The Escapist -



Good luck, my minions!




* It's very pitiful that we live in a time when a person has to say things like this, but here's my legal disclaimer in plain English - Don't do anything illegal, dangerous, or stupid and then try to say that it was my fault. If you do, it's not my fault, it's yours, and I cannot and will not be held legally responsible. Got it?


January 15th, 2009 (link to this)

IS A BAD ECONOMY GOOD FOR RPGS?

- I'm no expert on how the game industry (or ANY industry) works, or how it reacts to a bad economy, but I've usually heard others say sales of role-playing games can drop when the average disposable income does the same.

This piece from a Fox affiliate seems to point in the other direction, however:



Remember dungeons and dragons and magic the gathering? They're making a big comeback.

Sam Reed is the assistant manager of Quarterstaff Games on Church Street. He says the store had record sales for the holidays.

The hobby gaming craze is branching into the younger crowds.

Reed says since families aren't traveling as much, they're buying games as an alternative.

"It's cheaper to stay at home, buy a board game, buy a card game. It lasts a little longer. You get a lot of replay out of it, versus a trip where you only get to go once," Reed said.


It does make some sense - RPGs are great entertainment value, and provide many more hours of entertainment than going out to a concert or movie or buying a new DVD. I'm just not sure if this is a localized phenomenon or not, and if it applies to RPGs as well as board and card games. Does anyone have more information on this?




ANN COULTER DEFENDS D&D

- And no, I'm not kidding:



Consider the harmless fantasy game, Dungeons and Dragons -- which happens to be played almost exclusively by young males. When murders were committed in the '80s by (1) young men, who were (2) Dungeons and Dragons enthusiasts, some people concluded that factor (2), rather than factor (1), led to murderous tendencies.



She's completely off on the "played almost exclusively by young males" part, but at least she got ONE thing right...

...right?






January 14th, 2009 (link to this)

CLERICAL ASSISTANCE

- It's been seven years since Spellcasting 101, but I still get emails about it from time to time. I recently recieved this one:



Bill,

I am a seminarian studying to be an Episcopal priest. I run a bi-weekly white-wolf game where all players are Lutheran or Episcopal seminarians or priests. Sometimes I feel like taking pictures and showing how evil we are when we are not at Eucharist or attending multiple worship services each day. *sigh*

Spellcasting 101 was awesome. However, I am curious about your logic about how you became a 20th level wizard? You can play D&D forever and not level if all you do is roleplay. The question is: How many orcs and goblins have you killed? And that's just to get you to level 2. They aren't a high enough CR to level you much higher. To be level 20, you'd have to kill wyverns or something.

just thinking.

-Chris



Yeah, right. Like I'm going to listen to a lecture from a 0-level cleric. What do

you

know about arcane magic, anyway?



January 10th, 2009 (link to this)

D&D

ON

TO THE BEST OF OUR KNOWLEDGE

- The Wisconsin Public Radio show

To The Best of Our Knowledge

recently featured Mark Barrowcliffe, author of

The Elfish Gene

, that includes a discussion of some of his most memorable

Dungeons & Dragons

moments. You can listen to the episode on their site, and it's also available as a podcast on iTunes.

The rest of the episode is pretty good listening as well, with interviews from biblical scholar and Lovecraft expert Robert A. Price (of whom I am a big fan), Spiderwick author Holly Black, and Narnia skeptic Laura Miller.

(You can read an Escapist-exclusive exerpt from

The Elfish Gene

right here, by the way...)



January 2nd, 2009 (link to this)

"A CASE FOR TABLETOP RPGS" IN THE LIBRARY

- The School Library Journal has posted an article on the benefits of role-playing games in the library. Read more at the Terra Libris project.


You are currently reading archived Escapist updates.
To see the latest news items, go to the
Escapist blog
.
Previous updates by year:
2009
-
2008
-
2007
-
2006
-
2005
-
2003
-
2002
-
2001
-
2000
1999
-
1998
-
1997
-
1996